Continued Praise Touted for SUGC
by Tristan Oliver
March 3, 2009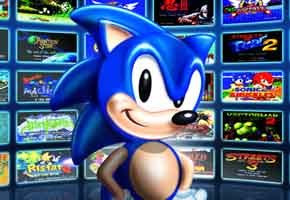 Reviews for Genesis Compilation Remain High
Despite outcry from veteran Sonic fans regarding lack of lock-on between Sonic 3 and Sonic and Knuckles, scores and reviews for Sonic's Ultimate Genesis Collection, known in Europe as Sega Mega Drive Ultimate Collection, remain relatively positive across the board.
Metacritic averages for the review sit at 81% for the PS3 edition and 78% for the XBOX 360 version.  Sites such as IGN, GamePro, Kombo, Meristation, and G4 have given the game scores in line with an 80% average of above, while 1Up, CVG, and Gaming Age have dished out scores averaging 75% or lower.
Sega has touted some of the higher scores as well on their own blog.  Scores averaging 80, 90, and a perfect 100 percent were touted in a post yesterday from lesser known entities Amped Gamer, Spawn Kill, and Binge Gamer, respectively.
There's no indication how the compilation is doing sales-wise just yet, but we'll track down numbers and relay any new information.  This is also a good time to remind you that we still have a poll regarding the lack of lock-on in SUGC, and we welcome your vote on it.