New Information: Sonic Comic #200
by Tristan Oliver
March 3, 2009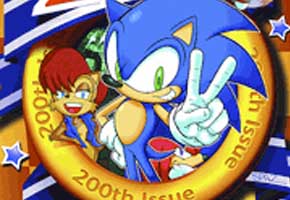 Archie Teases with New Details
The countdown to Archie's Sonic #200 continues, and the company is slowly releasing teaser details on what to expect when the issue starts rolling out around May.
Yesterday, Archie released a couple new tidbits regarding the landmark issue on their newly redesigned blog.  Apparently, like with most things these days, there's a twist ending.  We have those details below.
TSSZ News will continue to bring you details on Sonic #200 as details pour out.
IT'S THE MILESTONE 200th ISSUE OF SONIC THE HEDGEHOG…AND THE FREEDOM OF MOBIUS HANGS IN THE BALANCE!!!


Sonic The Hedgehog has achieved something few comic book characters from the 1990s have: his title has survived for over 15 years! Why? Chalk it up to a fiercely loyal fan base (comprised of a surprising number of adults in addition to children) who take their hero as seriously as any popular fantasy character! The comic books offer fans adventures which go beyond the video games and animated cartoons to expand the Sonic universe – and the personalities of the characters who populate it.

Over the years, fans have thrilled to pulse-pounding tales of intrigue and peril as the peace of Knothole Village was threatened by a menagerie of menacing villains. In the process, alliances were made, betrayals occurred, families were torn asunder and reunited again, and romances bloomed. Through it all, the heroic efforts of Sonic and his friends stood above the fray, setting an example for others to follow.
Now, the epic anniversary issue you've been waiting for is finally here! Back in Sonic #50, Sonic managed to win against his arch-rival, Dr. Robotnik. In Sonic #175, the doctor got his revenge! Now, in issue #200, they duel for the fate of the world! Will freedom come to Mobius? Or will the Eggman Empire rule forever more? Place your bets – but be ready for the startling conclusion! Don't miss this cranium-creasing, brain- bending, mind-blowing saga! Features a dimension-crossing cover by Patrick Spaziante.