Streak: "Mecha Madness is dead"
by Ryan Bloom
March 7, 2009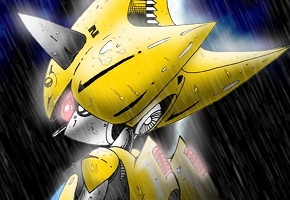 Source files corrupted beyond recovery

Personally speaking, I always had a soft spot for Streak Thunderstorm's Sonic fangame, Mecha Madness. The game's mixture of combo-heavy hand-to-hand combat and the slick, Sonic Advance-styled presentation were a big draw to me. Unfortunately, news today from Streak himself reveals that Mecha Madness is, effectively, dead:
"Due to a very VERY VERY unfortunate turn of events, the Mecha Madness engine .mfa that had all the helper shit and latest engine workings has gone corrupt. I can't salvage any of it whatsoever. I'm trying my best not to rage and break just about everything around me but that's not going to get it back. Anyways, sorry to all of you who were looking forward to it.

(…)

Mecha Madness was my exodus from Sonic Fandom. I wanted to go out with a bang but here I'll just exit with a wimper."
Though early in the SFGHQ Thread Streak says that he has no plans to rebuild Mecha Madness, as more people post and time passes, one gets the impression that as emotions settle down, we may still see Mecha Madness again in the future:
"Well, to be honest. I'm not entirely ready to quit on Mecha Madness. I'm just pretty much done with MMF2. Ever since I first started on the project, I had noticed that the program itself had alot of bugs and I always worked on a way to get around it's flaws.

(…)

I'm not too motivated to learn a programming language just to finish this game but I don't want to just quit on it either."
We here at TSSZ will keep you posted on any further Mecha Madness developments.