Alleged SBK Fan Art Plagiarist Miniero Disqualified
by Tristan Oliver
March 10, 2009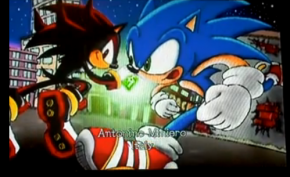 No Recall or Patch Planned, Miniero Apologizes

Antonino Miniero, the Sonic and the Black Knight contest winner who allegedly plagiarized the work of a well known Sonic fan artist, has had his work disqualifiedby Sega of Europe, and will not receive a free copy of the game.
However, those who already have SBK should not expect a recall of it, or a patch to remove the offending entry.
That's according to ArchangelUK, who spoke about the issue on the Sonic City Blognik yesterday.  AAUK says he will attempt to get in touch with the original artist, Mega777, who according to some fans left the Sonic community several years ago.  The issues presented in our original story are now well known not just to Sega of Europe but those at Sega of America also:
As the community has been quick to point out to me… all weekend >_>… and even to ClumsyOrchid over at SOA there has been an infraction (great word that) regarding the Sonic & The Black Knight fanart contest involving one of the European winners from Italy.  This particular winner as it turned out replicated a piece of arwork from 2003 as he is a big fan of hers – this is a violation of the submission rules which all entrants agreed to entering the contest which clearly stated across all languages:  "All the work submitted must be original and created by you."

Whilst it's naturally not possible to check every image everywhere to compare things, which people I'm sure understand, naturally we're all still rather disappointed at this end and whilst the entrant in question clearly meant no harm and 'didn't expect to win' the fact is if you enter a competition… that is rather the point of it. Also with regards to the game nothing can be really done about its removal – a "patch" for a Wii game and a recall have both been suggested by people and both are somewhat unrealistic.

This still counts as a disqualification however; as such we've informed the entrant of our decision that we will be withholding the copy of Sonic & The Black Knight they would have received from us.  Additionally I'm making enquiries to get in contact with Mega777 – we shall (as long as she is in agreement) be sending her the copy of SBK instead, which seems only fair and I'll also be personally adding something rather special from my cupboard of Sonic delights.
Just minutes ago, Miniero issued a full apology on the Sonic Italia message boards.  Here is what he said, in part, via a translation:
I thought they would have turned to websites to check for any malpractice. When I found out I won, I cannot deny the fact that I was happy, but having won with that picture I was also afraid of such a reaction.

All this is absolutely not an excuse to justify my actions, I know I have been wrong and I take all the responsibility for what I did, accepting any decision made by  SEGA and SonicItalia.

I want to apologize to all those who were offended by this, especially with the "21st" winner, it is my fault they did not win.

I officially apologize to MEGA777 for having soiled her masterpiece. I respect her very much, and for the fact that I had acted against her, albeit unintentionally, I feel deplorable.
We want to know what you think of this conclusion.  Is the punishment fair?  Tell us in the comments area below.