AOKIstudio Shows Off More Sonic Unleashed Concept Art
by Tristan Oliver
March 11, 2009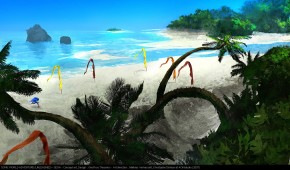 Paintings are from 2007
Regardless of what you think about the finished product of Sonic Unleashed, you have to admit that Sega put a lot of time toward developing the concept, and that apparently includes hiring an outside firm to draw up some concept environments for the game.
Sonic fan site Rings and Emeralds has unearthed concept art–and that's meant in every sense of the word–from Geoffroy Thoorens, from his time at AOKIstudio.  In 2007 he helped develop what appear to be hand painted environments meant to inspire SEGA and the Sonic Team for the game.  You'll see in the gallery below that plenty of environments that made it into the game are well represented here, including Shamar, Holoska, and Adabat.
All 17 works of art are available for your viewing and downloading pleasure below.  Let us know what you think of them in the comments below.