Update: Edusoft Cartridge Confirmed to be a Fake
by Mike Taylor
March 11, 2009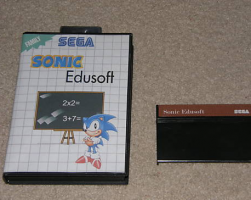 eBay seller confirms cart is a fake.
Earlier on today we reported about a rare item being sold on eBay. This rare item was a copy of an unreleased educational Sonic game on the Master System called 'Sonic's Edusoft'.
However, at the time of our article being posted most were dubious about the authenticity of this item. This was further enhanced by a blog post on SEGA blog SEGAtastic detailing why this item was definitely a fake. This post even pointed out that the seller had used Microsoft clipart on the boxart.
Well, we can now comfirm, via the eBay seller, that this item is indeed a custom cart and boz, and is a fake. In a couple of emails back and forth he said to me that he produced this himself.
At first I was actually interested in this item being a Master System fan. I sent a message asking for photos of the game inaction, to which he responded:
hi, i can send you photos of this and if you want one i can make another copy since this one sold already. let me know if you still interested.
I sent a further message asking if the item is authentic. To which he wrote back:
no, this game was never released. i put the rom on a cart and made the glossy label and box artwork.
It seems the SEGAtastic blogger was correct after all!
NOTE: This item has now been sold. The seller says if anyone wants a copy of this so they can play the game on a Master System, he can make more. Just send him a message via eBay.