First @ TSSZ: "Chun-Nan Adventure Pack" for Unleashed in Japan
by Tristan Oliver
March 12, 2009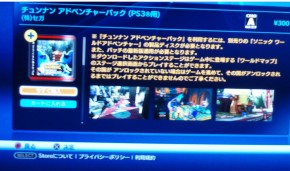 We Have Verified Extra Stages Available on PSN

While domestic audiences are downloading what amounts to a patch for the XBOX360 edition of Sonic Unleashed, TSSZ News has learned from a news tipster–who cites a "trustworthy" source–that true DLC for the game's Japanese counterpart, Sonic World Adventure, may already exist.  We have now independently verified this information via a photo available below, courtesy of one our readers, Dr. Eggfang.
The source tells our tipster that the DLC is only available for the Playstation 3 edition via the Playstation Network.  It costs 300 yen, or about $3, and it's titled the Chun-Nan Adventure Pack.  The source says the levels appear patterned after the Chun-Nan stages in the game, and that they span both day and night.  The source claims screenshots are available on PSN, and we have them below, with thanks to reader Dr. Eggfang.
"While I can't be sure he's not just misidentifying the areas," says our tipster, "I trust he's played the game enough, both Day and Night levels, to know they're new."
Our tipster also speculates that this release, if legitimate, and the patch release for XBOX360 may be related.
No announcement was ever made indicating a DLC release on the Sonic World Adventure website.  However, keep in mind no announcement was formally made regarding the just released XBOX360 patch either.
TSSZ News will let you know if and when this DLC will make its way to domestic shores and whether it will make it to the XBOX 360.