Last Day to Submit for Sonic Relief
by Tristan Oliver
March 13, 2009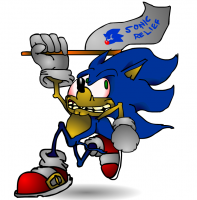 Get Them in by Midnight Tonight
Submissions are slowly pouring in for Sonic Relief, the charity fundraising effort spearheaded by MK Skillz over at the Sonic Stadium.
However, this is the final day for your fan art, video, or anything celebrating Sonic fandom can be submitted to the effort.  The deadline for entries is midnight tonight.  That appears to be midnight over in Britain's time zone (as the event is UK-based), so those outside of that zone should adjust accordingly.
From there, donators will calculate how much they are giving, a process that's expected to go through the weekend.  From there, a grand total will be announced, and that money will go to Comic Relief, a charity that helps eradicate poverty around the world.
TSSZ News will let you know all the closing details of Sonic Relief as soon as it's announced.  In the meantime, if you've waited until the last minute, head to the link above to get your work in, and show your support.