2 More SBK Reviews A Touch More Positive
by Tristan Oliver
March 17, 2009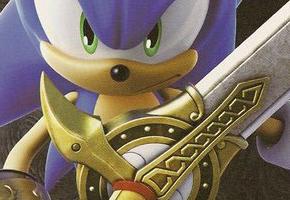 More European Outlets Weigh In
There's been plenty of mediocrity spoken in the press concerning Sonic and the Black Knight of late.  So, to our surprise, we found two outlets in Europe that have given SBK some of the highest marks in the press so far.
The first, from French site Wiiz.ft, awards SBK a 15 out of 20, and that equates to a 7.5 out of 10.  The original review is in French, but noteworthy from the translation are critical points they make to both gameplay and visuals, and that the multiplayer options are the only fun options outside of the main story.  They believe Sega and Sonic Team deserve some credit for the taking the risk of handing Sonic a sword, however, and that may be why a majority of the site's critiques don't have an incredible impact on the score.
We also have word of a second review out of Europe, this time from GamesTM Magazine, which awarded SBK an 8 out of 10 in their latest issue, one of the highest scores the game has received thus far.  We don't know many other details surrounding what went into that score, but we do know it's the same score given by GamesTM to the generally acclaimed (and Sega produced) MadWorld in the same issue.
Presently, the game's Metacritic average sits at a 58.