New Screenshots of Ashura: Dark Reign
by Tristan Oliver
March 17, 2009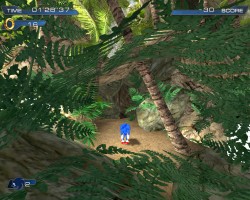 UT Mod looking Truly Unreal
Late last week, the developers behind closely watched Sonic fan work Ashura: Dark Reign released smidges of new information, cautioning that it's taking some time to develop out levels with a true Sonic feel for the Unreal Tournament 2004 mod.
"It is hard to plan out a Sonic based level," Dekrayzis noted in the update,  "Thinking up ideas for the Hedgehog to speed through and get the gameplay and art detail just right."
The update also noted not a whole lot of progress has occurred otherwise.  However, to compensate, a few new screenshots were added to the official hub for A:DR, and we have the below.  It never gets old looking at the visuals, and at the very least this title is shaping up to be a graphical masterpiece the community has yet to top.
Take a look, and check back with TSSZ News for the latest on this promising fan game mod.