Sonic Slammed in MADWORLD
by Tristan Oliver
March 17, 2009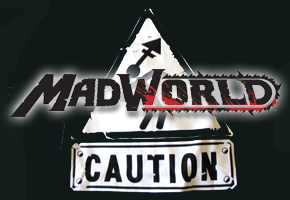 Play by Play Announcers Pick Up on State of Sonic
Sonic fans and gaming veterans who have been disgusted with the recent state of the hedgehog may have one source of comfort: Sega.
If such solace cannot be found from the publishers themselves, then at least it can from developer Platinum Games, whom Sega took under their wing to bring MADWORLD to the masses.  Sonic Retro forumer Cooljerk noticed something quite odd about the critically acclaimed title: its announcers within take a moment to throw Sonic, Sega's flagship mascot, under the bus.  This, in a game the company expects to sell like hotcakes.
Take a look at what Cooljerk found out.  Warning: There is a bit of strong language:
Well, the game has 2 announcers who do a play-by-play for the entire game. Late into the game, I heard the following conversation:

"Wow, SEGA put a lot of effort into this game!"

"Not that the last Sonic game is any frame of reference. Fuckers"

LOL. A sonic slam? In Sega's biggest game slated for release this year? I have to admit I'm surprised.
It's unclear whether the announcers are referring to Sonic Unleashed–still a source of debate in the community as to whether the game was treated fairly by the press–or the more universally panned 2006 Sonic the Hedgehog.
Despite the dis, don't be confused in thinking there's tension between Platinum Games and Sega.  The switch by the development house from Capcom to Sega is widely considered one of the smarter business decisions of late in the gaming industry, and Platnium Games employees have constantly gone on the record in interviews praising Sega's creative environment.