SBK Fan Art Contestant Mega777 Found!
by Paul Street
March 23, 2009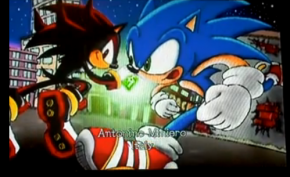 Defrauded art contestant contacted by Sega, prizes in the post soon

Sonic news isn't all fan boy bickering and communities at war. Occasionally something can happen to warm the hearts of even the most cynical Sonic fans on the planet.
Cast your minds back to early March and the SBK Art contest. An art entry by Antonino Miniero was discovered to be a copy of another Italian artist who went by the screen name Mega777. The original artist was believed to have left the Sonic community prompting Sega Community Manager ArchangelUK to track her down and reward her justly.
Earlier today TSSZ received a comment from 'Carlo Chericoni', claiming to be the brother of Mega777 and offered her e-mail address so someone at Sega could contact her directly. TSSZ promptly forwarded the message to ArchangelUK to inform him of this development but happily we received an e-mail back from him saying the problem had been resolved and Mega777 had been found at last
ArchangelUK has been in contact with Mega777, real name Francesca and a copy of Sonic & The Black Knight will be sent to her tomorrow as well as a rare Sonic & The Secret Rings art print signed by Ogawa-san from ArchangelUK's personal collection!
Check out the Blognik post here for the full story and I'll leave you with one other piece of good news,
"…since departing the community has followed her talent for art and now works on animated series and movies doing storyboards and things like that. A happy ending!"