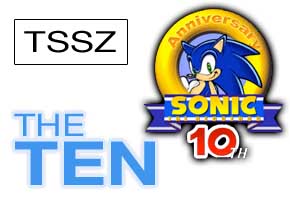 Sonic Adventure remains the Most Successful 3D Foray in the Franchise
Remember when Sonic games were almost universally heralded among the best gaming had to offer?  Remember when a community wasn't divided over Werehogs or swordplay?
There was such an era, and it was in 1999 and 2000, when Sonic Adventure hit the domestic landscape.  Japan received SA in 1998 when the Sega Dreamcast launched, and that led to a hotbed of Internet hype for the game leading up to the American launch of the Sega Dreamcast on September 9, 1999 and in Europe and Australia later in the year.  While SA is not the hedgehog's first attempt at true 3D gameplay–we have Sonic R, the ill-fated Sonic X-Treme, and to a much lesser extent, Sonic the Fighters, Sonic Jam, Sonic 3D Blast, and the special stages from Sonic 2 onward to cite as examples there–it was Sonic's first complete attempt at 3D platforming, and it is widely accepted to be the best attempt yet.
The Dreamcast edition of Sonic Adventure sold well over 2 million copies, including over a million in the United States–an incredible feat for its time.  Presently the GameRankings average for SA hits 87.12%, including a few perfect scores thrown into the average.  No Sonic game has eclipsed that score since.
It took some time for Sonic to catch up in the console wars in the years leading to SA.  Super Mario 64 was released for the Nintendo 64 in 1996 to incredible fanfare, and Sega's intended response–Sonic X-Treme–never made it out of the development cycle.  Though Sega had NiGHTS and other fare to support the 32 bit Saturn, the company's primary mascot only reared its head in the Sonic Jam compilation, an enhanced Sonic 3D Blast, and Sonic R.  There had been murmurs since 1996 that Sega had a next-generation console in development, but it wasn't until 1998 that Bernie Stolar announced the 128-bit Dreamcast, modem and all.
After a successful Japanese launch of the Dreamcast, and equally excellent reception of Sonic Adventure–albeit with some major bugs embedded–SA would head across the Pacific to domestic shores.  The wait was long, but the information was plentiful.  Here is TSSZ's first Sonic Adventure related story from our launch day on April 2, 1999:
A CD containing all 69 tracks from the Sonic Adventure game is now on sale in Japan.  Called "Sonic Adventure (Digi-log Conversation) Original Soundtrack", it comes on 2 CDs. Next month (if all goes well) I will be reviewing this CD!

As you know, the Japanese version of Sonic Adventure had some nasty bugs in it.  According to Dreamcast Life, these bugs are expected to be fixed for the US release:

"It looks like Sega of America is working hard on fixing all the game glitches before the U.S. release. Unfortunately, the pop-in problems are of the lowest priority due to the fact that they don't really detract from the gameplay. If they can fix the camera and remove some of the collision detection problems than Sonic could very well be a system seller."

To other news, it's 100s across the board for Sonic Adventure! Gamefan did 9 pages on the Japanese review. In it, it is stated that the framerate is not at a constant 60FPS, and there is pop-up, but it does not really detract from gameplay.
Hype for the Dreamcast and for Sonic Adventure was so high, Sega had offers left and right for promotional tie-ins.  Retain chain Hollywood Video managed to cash in big, giving consumers the opportunity to rent the console, along with a limited edition of SA, well before the 9.9.99 launch.  But the regulations were strict, and gamers really did have to pay to play.  Here's a TSSZ News story from July 8, 1999, detailing all the regulations:
Starting the fifteenth of July, you'll be able to rent a Dreamcast console and certain games from selected outlets of the nationwide video rental chain. It's an opportunity to play before anyone else on the block, but it comes at a rather stiff price.

The console and a single game will be twenty dollars for a two-day rental. No renewals or extensions will be allowed, so as to give as many customers as possible a chance to rent the system. Additional games can be rented for another five dollars, but in the early days of the promotion, Sonic Adventure will be the only game you can get. Hollywood Video promises more available games in the future, but hasn't released any specifics yet. Along with the twenty-dollar fee, you'll have to plunk down a $350 security deposit. Sega seems quite serious about not letting any consoles get out of their hands.

The point of the promotion is of course to build interest in the console's September 9 retail launch. Sega will be adding a few incentives to the deal in order to encourage renters to own the system for good. When you rent the system, you'll get a coupon good for ten dollars off a Dreamcast at Electronics Boutique. EB will then reciprocate by offering a coupon for a free Dreamcast game rental at Hollywood (with rental of another game) to pre-purchasers of Dreamcast consoles.

Not every Hollywood Video franchise will have consoles on hand to rent. The chain will announce which stores will be participating in the promotion on July 14. That information should be available at that time on their website, www.hollywoodvideo.com
As copies were slowly trickling out for rent before the launch, members of the community were putting in their two cents all around.  Many thoughts made it to the front pages of Sonic news sites, including ours.  Here's a perspective from Suneet Shah, then webmaster of The Sonic Zone, in a story dated August 10, 1999:
Yesterday, my first full day in the US after my vacation, I managed to spend $20 and rent Sonic Adventure for myself. To sum up how I feel right now, I have to use one word: shocked.

Yesterday my best friend came over and we went to get the DC. Now, it was hard, because I was feeling very sluggish yesterday. Last night I had sleep after 2 days. (48 hours).

However, I still managed to play SA the whole day and sleep at around 3 AM. I do feel guilty because when it was my friends turn (we switch by life and level) I often found myself dozing and waking up an hour later.

This game is beautiful. Simply that. After playing it I am in more awe than I ever was. This game is truly amazing.

This is the first Sonic game I think to go beyond the point of detail that all of them have attained. This was truly an adventure. The name does the game justice.

I will comment on everything but graphics, as I really don't think I'm fit to comment on them. Although I do agree that they are great.

Mainly I think the GamePlay is excellent. Although I am disapointed that the bosses are so easy. Especially the last boss. That was so easy!

The levels were a bit hard. But beating the game the second time was surprisingly easy.

I have a question. The disc says limited edition and only lets you play as Sonic, apparently. Well somehow I managed to cheat it and I was playing as Tails. Then I restarted and once again it wouldn't let me play as anyone but Tails. What's going on here?

Ice Cap – I think this level was neat. The snowboarding part is great. Now I realistically think that a Sonic snowboarding game is called for! I know that for so long the concept of Sonic snowboarding has been in demand. Even playing Sonic 3, when Sonic takes up a snowboard, it is exciting, even though you do practically nothing.

Also, Twinkle Circuit! This is fun. I'm glad to see that they included these "Sub-Games" as I really enjoy them. The things like these add to replay value and I think that it's the small things with detail like that that really count when it comes to gameplay.

I want to rant on some more but unfortunately I cant. I am just way to sleepy. I don't think playing SA that late was very practical last night. And I have to start training for cross-country tomorrow, oh man is it going to be tough while I'm in this condition.
When the game launched, nearly every gaming critic praised the overall product–and that included those perhaps nitpicking more than others.  Here's an excerpt from an IGN review of SA we relayed on September 7, 1999.  It may not sound all that great, but keep in mind that IGN gave SA at 8.6 out of 10:
I will never forget the first time I blasted through Windy Valley, or the first time I went down the side of the sky scraper in Speed Highway. But at the same time, after dying in the mirror room in Lost World a good 7-8 times, I was ready to kill someone, despite how cool it was. I guess for me, some things, such as games, are meant to be experienced, and once that has happened, you simply cannot expect the same level of effort and enthusiasm to drive them to that accomplishment. Through a combination of near-criminal camera angles and unfamiliar shifts in the overall pace of the game, Sonic Adventure will force you to take more than your fair share of trips down memory lane. Maybe you're patient enough to deal, but if there was one thing I could change about Sonic, it would be this.

So how is it exactly a game that pissed me off this much manages to even get more than a passing glance from me in the realm of purchasing possibilities? Basically, because when this game is at its best, it managed to deliver some of the most impressive sequences I have ever witnessed in a video game. There are parts of this game that are so damned good, you'll forget every senseless death, every bad camera angle, and every expletive you passionately flung at the screen during the course of gameplay. When it's running on all cylinders, Sonic Adventure is a testimony to the reason I play games. Engrossing, demanding, and utterly awe-inspiring, Yuji Naka's vision has finally come full circle in this phenomenal title, and once you've experienced the magic, you will never look at gaming the same. Period. This may sound weird to you now, but take a trip through the whole of Sonic Adventure and you'll understand every word. I promise you that much. Then you'll see why it's almost tragic that it could not maintain this sense of wonder throughout.

To it's credit, as frustrating as it could be, SA manages to do a lot of things right, and you will be impressed with the sheer number of things to do. The game's multiple characters, though their games are a bit to repetitive and unrelated (I so wish they would have made you alternate between characters as the story dictated..), they do give you a whole mess of objectives, and go a long way towards making the game a deep title. Add to that a wide variety of mini-games and you've got a lot to keep you busy in Sonic. Throw in Internet options and the whole Chao experience and SA more than has the extras department covered. Anyone who says this title is a breeze to complete has obviously neglected the true scope of the game, and though it may be a bit of a pain to finish, it is by no means quick and easy.

The thing is, will the game's high points be enough to help you put up with the occasional breakdowns in gaming coherency? I'd love to tell you I have the answer to that question, but the truth is, that really depends on you. Many people have completely loved this game, and will no doubt send me a sea of hate-mail for even entertaining the notion that Sonic Adventure is not the ultimate expression of gaming genius. But by the same token, there are sure to be those who feel I'm on the take from Sega because of my score. The bottom line is that SA is a great game, but it is just too far from perfection to be considered a must-have title for the casual gamer during the Dreamcast launch. Hardcore platforming fans would be stupid not to pick this title up however, as they've seen there share of the rough spots in gaming history, and will no doubt appreciate the flashes of brilliance Sonic displays when he's at his best. If you think you can deal, then pick this one up, if not, at least give it rental. It may surprise you.
What made Sonic Adventure so good?  It wasn't just the platforming or the wide variety of gameplay, or the adventure elements, or the world rankings, or the relatively deep storyline behind it all.  It was that, for nearly all of the Sonic community, it finally felt like the combination of all of these factors made it feel like Sonic was back at the top of gaming's greatest again.  After having sunk into obscurity for some time, looking up to the capabilities of the Nintendo 64 and the Sony Playstation, Sonic felt cool again, and a new generation of fans was turned on to the franchise.
But the game didn't escape moments of controversy.  Chatter surfaced among the Sonic community regarding the content of one lyric in Amy's theme, My Sweet Passion.
I do understand the feelings of a Persian Cat
…But the Sphinx looked so cute I had to shave it…
Perhaps innocuous enough in today's age, the lyric was enough to have some in the community label it as adult content, and that led to broader discussions on whether Sonic, as a whole was growing up.
Concerns also sprouted surrounding the use of special third party controllers and GameShark cheats to gain a competitive advantage in the SA World Rankings competitions.  The concerns were so great that the Sonic Team began a crackdown on users, as this TSSZ News story from July 24, 2000 illustrates:
About a week ago, the Sonic Team published this announcement, and it looks like cheaters will finally get their just desserts in the WRs:

It's come to our attention that the Sonic Adventure World Ranking contest results are becoming tainted with altered scores.

We hate having to police the site but there is no alternative to the blatant cheating we are observing. We can not stop the use of peripherals that enhance your gaming experience, but in order to level the playing field for everyone, we must reserve the right to disqualify those score that just seem unrealistic. We hope you can understand our position.

GameSharks, controllers, and other devices are being used in SA and CCR.  Finally, both Sega and the Sonic Team are catching on to this trend.  Perhaps more gamers will participate in the WRs now that cheaters at least have a chance of being stopped.

We looked on GameShark's web site, and we found the cheat to obtain a super low time on SA stages.  GameShark users, your secret has now been fully exposed on the Sonic Scene.  Watch out.
In spite of the crackdown, cheaters kept plugging away at the World Rankings, and the incentive for legitimate players to keep at it faded away.
Still, at least on the surface, the news kept getting better.  On December 9, 1999, TSSZ News cited an interview with a purported Sega of America beta tester that claimed Sonic Adventure 2 was in the testing phase.  In March of 2001, we found the first bits of music leaked from Sonic Adventure 2, found on Napster amid a lot of confusion.  But the buildup to SA2 was eventually derailed by news that Sega would let the Dreamcast die and realign its software strategy to encompass all consoles.  That resulted in Sonic Adventure 2 being the last major franchise release for the Dreamcast, with Sonic Adventure 2: Battle making it onto the Nintendo GameCube.  Critics would soon fall out of favor with Sonic, and not even he could save Sega's hardware hopes.
In many ways, Sonic's adventure continues to this day, as he and his friends search for a sweet spot between innovation, acceptance, appeal, and consistency.  Sonic Adventure laid the groundwork and remains the standard for solid, fun 3D Sonic gameplay, but some have argued what followed since SA2 has been nothing more than, pardon the pun, Perfect Chaos.
That doesn't mean the memories can't be revived.  Sonic Retro's wiki contains an expansive section on all things related to Sonic Adventure, including prototype imagery and some lost items found on the game disc.  The museum post on The Green Hill Zone is also quite extensive.
—–
The Ten is a multi-part series examining the 10 events of the past decade that have shaped Sonic fandom and community affairs today.  It is part of a series meant to complement the 10th anniversary of TSSZ News.