Hardgamer: 8/10 for SBK
by Tristan Oliver
March 27, 2009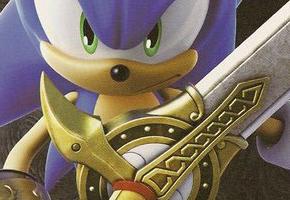 Translated from Portuguese: "What Elegance, Sir Sonic!"
For those looking to stray away from all the negativity surrounding Sonic and the Black Knight, we managed to find some good news with the help of TSSZ News reader BlackHawkOmega.
Brazilian gaming site Hardgamer gave the Wii title an 8 out of 10 overall, with very high marks across the board in subcategories, including a 9 out of 10 in the "Fun" category.  Hardgamer is one of Brazil's premier gaming sites.
It's a bit hard to publish an excerpt here, but we can offer a link to this loose translation of the review.  All in all, Hardgamer praised the game's mix of visuals and sound, and they allude to the prospect of many hours being spent on the title with respect to the extras it contains–especially if you're a Sonic fan.
If you have a news tip to share, let us know by clicking "News Tips" at the top of every page.