The Ten: Death of a Legend
by Tristan Oliver
March 28, 2009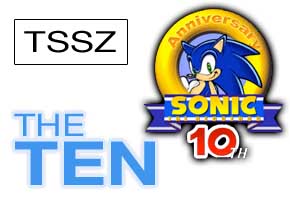 When Isao Okawa died, did Sega's spirit die with him?
2001 was still a renaissance period of sort for Sonic fandom.  Sonic had seen 10 years on top of gaming's great mascots, Sonic Adventure 2 rejeuvenated veterans and brought in a new wave of fans, and the community continued great growth on the Internet.
But before Sonic turned 10, and before SA2 saw release, the Sonic, Sega, and gaming communities joined together in mourning for one of the last good businessmen in the industry.  He was Isao Okawa, and he wanted Sega to succeed.
Okawa's direct involvement with Sega was through his own company, CSK Holdings corporation.  The Japanese technology company was founded in 1968, and Okawa had been chairman of the company for the rest of his life.
CSK primarily offered technology services to Japan's businesses, but in 1984, the company purchased a majority stake in Sega stock.  Okawa became Sega's chairman.  He would hold that position until 2001, overseeing the successful Genesis era, tough times for the Sega Saturn, and a flourishing Dreamcast generation.  He oversaw the wild success of the Virtual Fighter franchise in the arcade, and saw 3D racing come into the limelight with the arcade hit Virtua Racing, and eventually Daytona USA.  In many ways, Okawa prevented Sega from going up in smoke.  Originally owned by Gulf + Western, Sega had been crippled by the video game crash of 1983.  It was CSK–and Okawa–that bought the subsidiary from Gulf + Western.
Well loved by his alma mater of Waseda University and by the Japanese government for putting a positive face on the growing tech biz, Okawa had personal involvement in Sega than most chairman.  As this excerpt from a TSSZ News story dated March 16, 2001 shows, he did everything possible to ensure the company's success–including donating his personal wealth toward the cause:
Ranked Japan's ninth-largest taxpayer in the year to March 2000, Okawa demonstrated a personal commitment to Sega. In the last year he was the primary source of financial support for the Tokyo-based company. Last month he gave 85 billion yen ($691.6 million), mostly in shares of Sega and other CSK group companies, to bail out the company, which expects to post a fourth-straight annual loss for the year ending this month.

That's after he donated personal assets valued at 50 billion yen in February 2000. He spent about 10 billion yen of his own funds in 1984 to buy a minority stake in U.S.-based Gulf & Western Industries Inc., the former parent company of Sega.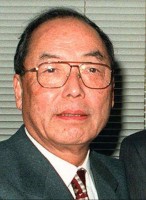 Those investments appeared to pay off. In its first year the Dreamcast found some success in North America and Europe, and the console was catching on in Japan.  But Okawa's health deteriorated.  He had been diagnosed with cancer, and his duties dwindled in the wake of his fight.  Still, employees looked to him as an inspiration, and executed their day-to-day duties with him and his vision in mind.  Under Okawa, the company cared about itself.
Times were troubled again at Sega without their leader.  The company could not keep up with the competition–mainly Sony's Playstation 2–and in January of 2001, Sega announced the Dreamcast would cease production, with the company going multiplatform and DC software eventually being phased out.
Not two months later, on March 16, 2001, Isao Okawa passed away.  Heart failure was determined to be the cause of death.  He was 74 years old.
Sega of America then announced the sad news to their fans via their website:
It is with great sadness that Sega announces that on March 16th at 3:47 pm (Tokyo Time), Isao Okawa, the beloved and respected chairman and president of Sega Corporation, passed away at the Tokyo University Medical Hospital due to heart failure.

Okawa-san was born in Osaka, Japan in 1927. After graduating from the prestigious Waseda University, he formed Computer Service, which in 1968 became CSK. In addition to his role at Sega and being an honorary chairman of the CSK Corporation, Okawa-san was granted several honors by the government for his efforts to aid and revitalize Japanese high-technology companies. He also received an honorary doctorate from his alma mater.

Over the years, Okawa-san demonstrated his personal commitment to Sega Corporation. He spent about 10 billion yen ($81.6 million) of his own funds in 1984 to buy a minority stake in Sega from Gulf & Western Industries Inc., the former parent company of Sega. He continued his personal involvement with Sega Entertainment Ltd, by joining with David Rosen (the founder of Sega in 1951) to buy the remaining Japanese assets of Sega. In 1986 he took Sega public in Tokyo and New York. In the last year he was a primary source of support for Sega, donating personal assets valued at 135 billion yen ($1.281 billion).

As a visionary with unrelenting passion for Sega, Okawa-san was integral in establishing the company as a leader in innovative and compelling content. Although Okawa-san had removed himself from a day-to-day managerial position, he was still consistently acknowledged as an inspiration to Sega's employees around the globe. By integrating his love of games with his enthusiasm and involvement with a range of cutting-edge technologies, Okawa-san successfully mapped out the blueprint for the future of Sega. Although his passing marks a sad day in our history, his vision will continue to be carried on by the numerous development teams he inspired to deliver the world's paramount networked gaming content.
CSK, the company Okawa founded, also released a statement:
On the death of Isao Okawa, the founder and honorary president of our company, I wish to present the following brief history of his life in deep appreciation for the close friendship I was privileged to share with him during his lifetime.

When he was a young man, Okawa contracted a severe case of tuberculosis that resulted in his spending eight long years in the hospital, causing him to get a late start in life. When he did start his career in 1968 he was 42, but he foresaw the advent of the information age, and with ¥5 million in capital and only 20 employees he founded CSK, literally unknown, with no credibility and no technology. It was nothing raised to the nth power. All that he possessed were the resourcefulness to create something out of nothing and the resolution not to let the company fail.

After succeeding in 1982 to achieve the first listed stock corporation in the information service world, by buying Sega from Paramount (U.S.) in 1984, participating in the management of Bellsystems24, Inc. in 1986 and such, he went on to form CSK Group which composes a wide range of companies from business to entertainment. Today, in Japan and abroad the Group boasts 90 companies with total sales amounting to nearly ¥800 billion, employees reaching 20,000, and 7 open-listed enterprises.

In 1986, Okawa established THE OKAWA FOUNDATION for Information and Telecommunications to help realize an advanced information society and contribute to the promotion and development of information and telecommunications technology. In 1995 he proposed holding an international conference for children called the JUNIOR SUMMIT, with the theme "Realizing World Peace" ; it met that same year. In 1998 he made a private contribution of around 3 billion 700 million yen to establish the Okawa Center for Future Children in the media laboratory of Massachusetts Institute of Technology. He made meritorious achievement in working tirelessly toward the fulfillment of his heartfelt desire to realize permanent world peace.

This year on January 31, from his own private means, Okawa presented Sega with a gift of about ¥85 billion. In that act Okawa put into practice the management philosophy he frequently expressed: A business should stop at one generation. What I make goes back into the business [not to my family].All the employees of the CSK Group, myself included, admired what Okawa did and at the same time experienced all over again the joy that each one of us has known working together with such a wonderful founder-manager.

Okawa left to all of us in the CSK Group his personal management philosophy that he created himself- It's the people that count. Let us pledge ourselves to renew our resolution to work together for the development of the Group.
Throughout the community, gamers were shocked and saddened to hear of Okawa's passing.  In the Sonic community, members of the Sonic Fan Games HQ and the Moogle Cavern observed virtual moments of silence.  Nearly every major name in gaming media offered their own condolences.
An insider on the then wildly popular DC Tech Pages message board said the news hit employees at Sega of Japan especially hard:
I've talked to some Japanese employees at SoJ and from what I'm told company morale is pretty darn low. This is truly a shame to have happened and only time will tell if a full recovery can progress.

Here at SoA things are also dimmer than usual. Many didn't really care for the news all that much but there was a nice conference and speech that proceeded that gave memorial to Okawa-san. Truly a great man that will always be remembered. His love for SEGA always seemed unprecedented and now I believe the fight for survival will be a whole lot more focused.
Okawa's death was even noted inThe New York Times.  The paper wrote in an obituary:
Born in Osaka in 1926, and educated at Waseda University, Mr. Okawa became rich over a long career as a technology executive and investor. He founded the CSK Corporation, a computer services company, which became Sega's largest shareholder. He was also a major early backer and stockholder in a number of other Japanese technology companies. including the ASCII Corporation, Bell System 24 and Japan Card System.

The success of Sega's home entertainment consoles, Dreamcast and its predecessor, Saturn, came to be a personal crusade for Mr. Okawa, who saw Sega's chief competitor, the Sony Corporation, and its PlayStation machine as his archenemy. He poured a chunk of his personal fortune into the fight last spring, when Sega raised 101 billion yen ($820 million) to introduce Dreamcast. Half of the money came from Mr. Okawa personally, the rest from CSK.

Known for his energy and determination, Mr. Okawa had a track record of dismissing and replacing managers at CSK-controlled companies when he was dissatisfied with results. When first Saturn and then Dreamcast fell short of projections, he removed Hayao Nakayama, Sega's longtime chairman, and sidelined Shoichiro Irimajiri, a former Honda executive who Mr. Okawa had promoted as president, and took personal charge of the company.

Mr. Okawa was also among the more flamboyant of Japan's generally staid senior executives, and reportedly regaled a large crowd of associates and friends, entertainers and sports figures with hours of karaoke singing at his 74th birthday party in a Tokyo hotel last spring.
TSSZ News also dedicated much time to Okawa's passing in our weekly radio news wrap, which you can hear below.
[audio:http://www.tssznews.com/wp-content/uploads/2009/03/7sonicscene03172001.mp3]
What does Sega have to show for the post-Okawa era?  After his death, Sega continued to post massive losses, unable to counter Sony's blockbuster PS2 sales, or even the existence of Nintendo's GameCube which, compared to gangbuster Wii sales in this generation, was Nintendo's red-headed hardware stepchild.  Its well-regarded name as a hardware manufacturer had all but been destroyed, and the company even nearly pulled out of software to focus on the arcades.  Sonic would eventually find his way to multiple consoles, forcing many loyal fans to financially support two or more consoles just to play the hedgehog's latest adventures.  CSK put its well protected child on the auction block, and in 2003, Sammy began chipping away at Sega, buying pieces of stock until it held a majority stake the next year.  Only after Sammy assumed full control and Sega became Sega Sammy Holdings was the company realigned to focus on the home software market.
Sega appears to be back on its feet with some fans, with titles such as MadWorld out, The Conduit in the pipeline, and even Sonic Unleshed finding a place in fans' hearts again.  Still, Sega Sammy Holdings continues to post financial losses nearly every quarter–sometimes hemorraging less than in other quarters.  The business world has changed drastically from the one Isao Okawa knew and practiced, and in the current recession where eve one-time rival Sony is having trouble staying afloat, one must wonder whether Sega could use another bailout along the lines of the one presented to them by Okawa in 2001.
Isao Okawa believed in Sega like no one else could, and put the money where his mouth was.  He was a superstar both in the company and out, the likes of which Sega has not seen since.  In many ways, he was the #1 Sonic fan and #1 Sega fan in the world.  Fans may be warming up to Sega's recent fare, but without both fans and employees sharing the passion and dedication that Okawa brought to the industry, Sega's attempted return to glory may be too little, too late.
—–
The Ten is a multi-part series examining the 10 events of the past decade that have shaped Sonic fandom and community affairs today.  It is part of a series meant to complement the 10th anniversary of TSSZ News.