New Mario & Sonic at the Winter Olympic Games Info & Screens
by Paul Street
April 3, 2009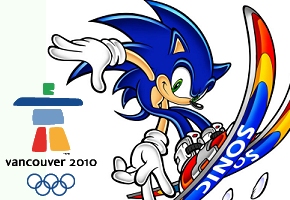 IGN Has The Lowdown on Sonic's Next Sporting Adventure
Just in case you haven't had enough of games featuring a speedy blue hedgehog wearing red and white shoes recently, Sega have started to promote the third game in succession featuring their mascot. This time he's not turning into a Werehog or running about with a sword but rather stepping up to duel with his archrival Mario in the sequel to Mario & Sonic at the Olympic Games.
That right, press were invited recently to play on both the Wii and DS versions of Mario & Sonic at the Olympic Winter Games and IGN have scooped a 'hands on' preview and a plethora of new screenshots which can be checked out here.
No new Wii events were announced but a number of previously unknown things were talked about.
Firstly, IGN were told that there will be new playable characters from both the Mario and Sonic worlds. Unfortunately their identities are being kept a secret for now but if you'd like to guess feel free to type in your comments below.
In multiplayer all events have been confirmed to be available from the start meaning you won't have to play through the single player game to get the most out of a multiplayer session with some friends. The only levels locked will be the returning 'Dream Events' that resembled Mario Kart in a running race in the previous game. Again no information about them has yet been revealed.
Balance Board support has already been confirmed but you'll be glad to know it's not mandatory if you're one of the few people left on the planet yet to own one.
The most interesting news to come from the hands-on session was news about the DS version of the game which is apparently being developed by a totally different team from last time to avoid it being a scaled down clone.
"The DS has a greater focus on its single-player game, although it will offer download play for up to four gamers off one cartridge. Players can go on Adventure Tours with the DS game where they accept quests and encounter boss matches. SEGA will be unveiling these bosses at a later date, but did say we can probably guess what bad guys from the Mario and Sonic universes would make sense."
Bowser and Eggman working together perhaps…?
New events were also revealed for the DS game including the Skeleton which is sort of like the bobsleigh apart from with just one person and they're not in a sleigh but rather whizzing down a course in a glorified baking tray.
Mario & Sonic at the Olympic Winter Games is due out later this year.