"Rare" Bean Plushie on EBay
by Tristan Oliver
April 14, 2009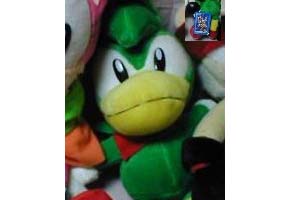 Would you Pay up to $499 for This?
Quickly on the heels of a misprinted Sonic Adventure toy going back on the auction block for big bucks, another potentially rare piece of Sonic memorbilia now listed on EBay–and unlike the toy that didn't sell for $10,000, the seller won't put it back up for sale if he doesn't get what he wants.
"The starting price is the very minimum I accept to sell it at," the seller, known as itreblac, said when he posted a plushie of lesser known Sonic side character Bean the Dynamite up for auction.  That starting price?  $299 for bidding, $499 to "Buy it Now," plus shipping.
"There will be no further discount," he continued, "and I'm not eager to relist it multiple times and lose money, so bid NOW OR NEVER."
The French bidder says the Sonic the Fighters character plush is straight from Japan–available only there–and is "impossible to find," in his words.  The condition is labeled as perfect.
According to the listing, the seller didn't want to give it up…and his further requirements for bidding only accentuate that.
No private feedback will be accepted by the seller, and neither will any feedback at all.  Presently, the seller's rating sits at a 100% positive rating.  He admits to be late sometimes with shipping, but once out of his hands, he cannot control the parcel, and asks that be considered when giving feedback.
When the misprinted Knuckles toy crashed in price from $10,000 to $1,000, many of our readers remained disgusted at such an inflated price.  This parcel will likely only be half the cost, but with perhaps more value attached.  Once again, we want to know if you think it's worth it.  Tell us in the comments section.