Sonic Robo Blast 2 Pushed Back
by Ryan Bloom
April 15, 2009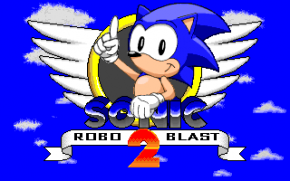 Plus new video!
Back in November,  TSSZ News learned that the next release of venerable fangame Sonic Robo Blast 2 would see its next (and most likely final) release sometime next month. This would coincide with SSNTails, the lead programmer of SRB2, getting married, and moving on with his life. Thanks to a post on the official SRB2 Forum linked to us by SAGE coordinator InstantSonic, we at TSSZ have learned that this is no longer the case.
Because preparing for a marriage is turning out to be very time consuming, SSNTails has revealed that the next version of Sonic Robo-Blast 2 will be released at the Sonic Amateur Games Expo in July. In his own words:
"Wedding planning and getting ready and all of that other crazy stuff has turned out to be so much more daunting than ever expected. The Sky Sanctuary team has also been making some fantastic progress, allowing us to include things in the next version that I could never imagine making it. To release in May I think would be cutting all of their work too short.

So… we've decided on a new target – SAGE!

This will give us time to fix more bugs, perfect the multiplayer system, and give some extra polish to the Single Player mission. I know you have to wait a little bit more, but I'm sure it will be worth it.

SAGE begins on July 25th, 2009.

But don't think we won't keep you entertained in the mean time. Look for new YouTube videos in May and beyond."
SRB2 celebrated its tenth anniversary last year, and the team has made a monumental effort these few years to get the final, completed game released. Around the same time news of SRB2's new release date, SSNTails released video of a new level: Arid Canyon.
As SAGE 2009 draws ever closer, expect more big fangame news here at TSSZ.