M&S Winter Olympics: Let's go Bobsledding
by Tristan Oliver
April 17, 2009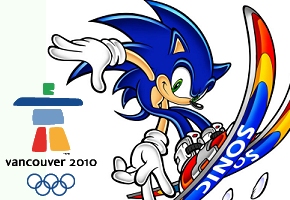 New Gameplay Video…Sort Of
It looks like some builds of Mario and Sonic at the Winter Olympic Games are making the rounds within the media.
Spanish Wii site Revogamers evidently received a build copy and went on a bobsledding expedition.  The bobsledding demo is dated from this past Wednesday.
The problem is, while you'll see the staff play away in typical Wii control fashion…you won't actually see any gameplay footage.  In fact, Revogamers went out of their way to black out the TV they were playing on, disallowing you to see anything happening on the television.
But, if nothing else, watching four staffers make fools of themselves with the Wii controls for your entertainment confirms one thing–there will be four player modes supported on at least the bobsledding event, and presumably more.
Take a look below.  We'll be sure to pass along any new information regarding Mario and Sonic at the Winter Olympic Games when we get it.