M&S Winter Olympics Confirmed For E3
by Tristan Oliver
May 5, 2009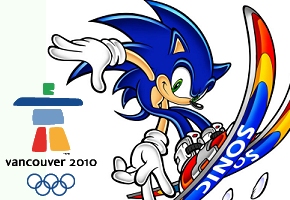 Set of SEGA Showings Relayed Via Twitter
Twitter seems to be a very popular tool for SEGA these days.  The company has relayed bits and pieces of new information via the social networking service, from details on new contests to now first word on what to expect from them next month at the Electronic Entertainment Expo.
Yesterday, one of Sega's tweets presented a list of games to be on display at the show floor next month.  Mario and Sonic at the Winter Olympic Games for the Nintendo Wii and DS was among the confirmed titles, as was Sega's more realistic official Olympic game, Vancouver 2010.
Mario and Sonic joins other Sega fare that will strut its stuff to those in attendance, including Alpha Protocol, Bayonetta, Planet 51, and The Conduit.  This doesn't mean there may not be something more secretive on the show floor or a surprise waiting–that remains to be seen.
TSSZ News will keep you up to date on the road leading to next month's E3.