Sonic Unleashed goes portable
by Ryan Bloom
May 7, 2009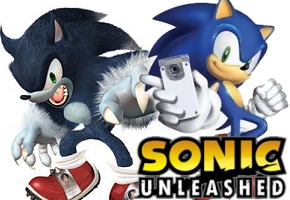 The World Adventure lands on your mobile phone
Sonic has always been a good fit for handhelds. Even when the chips were down for the 3D console Sonic games, most would agree that Sonic Advance and Sonic Rush were enjoyable titles. While there's still no news on a third installment of the Sonic Rush series, Sega and Gameloft are teaming up to bring Sonic to another handheld device: your mobile phone. Unfortunately, there are no screenshots or video of it just yet, so it's difficult to tell how, exactly, Sonic Unleashed is going to fit on the device (or which devices will be supported, for that matter). The Press Release (featured below) does say the game will be a 2D affair, so it'll be interesting to see how this turns out.
Sonic UnleashedTM will be the first game to be launched on mobile

Gameloft®, a leading publisher and developer of video games on mobile phones and consoles, today announced a licensing agreement with SEGA® Europe Ltd. to develop, publish and distribute multiple mobile games based on SEGA brands. This is the first partnership between Gameloft and SEGA® Europe Ltd.

"We are confident this agreement will be the first step towards a long term partnership between Gameloft and SEGA," said Michel Guillemot, president, Gameloft."SEGA's great brands coupled with Gameloft's long standing history of excellence in mobile game development can only result in an extraordinary mobile experience for consumers."

"With so much entertainment on the go, it seems natural to provide fans with a mobile game based on the much loved Sonic brand," said Gary Rowe, A&R Director, SEGA® Europe Ltd."Gameloft's unwavering commitment to quality mobile games combined with a successful track record of bestsellers and unmatched worldwide distribution make them uniquely qualified to develop Sonic Unleashed™ for mobile."

The mobile game will be a high speed 2D side-scrolling adventure that stays true to what's made Sonic such a popular and critical success over the years, both through environment and gameplay. Featuring dual gameplay, players will be able to engage as the regular Sonic the Hedgehog or Werehog, a werewolf who comes out at night, moves slower, but possesses incredible strength. The mobile game will once again pit Sonic against Dr. Eggman, taking him across several continents to collect the chaos emeralds to save the world. Exclusive to the mobile game, Sonic Unleashed for mobile will feature a new personality with exciting new skills.

Sonic Unleashed™ for mobile is currently under development in Gameloft's studios and will be released in June 2009 in Europe, Middle East, Australia and New Zealand.

###

About Gameloft

Gameloft is a leading international publisher and developer of video games for mobile phones and consoles. Established in 1999, it has emerged as one of the top innovators in its field. The company creates games for mobile handsets equipped with Java, Brew or Symbian technology. The total number of games-enabled handsets is anticipated to exceed four billion units by 2012. Gameloft games are also available to players on WiiWare and DS, Microsoft's Xbox LIVE Arcade, Apple's iPod, iTouch and iPhones, and PCs.

Partnership agreements with leading licensors and sports personalities such as Ubisoft Entertainment, Universal Pictures, ABC, Dreamworks Animations SKG, Endemol, 20th Century Fox, Viacom, Sony Pictures, Touchtone Television, Warner Bros., FifPro, Ferrari, Paris Hilton, Gus Hansen, Kobe Bryant, Derek Jeter, Reggie Bush, Chuck Norris, Jonny Wilkinson or Robinho allow Gameloft to form strong relationships with international brands. In addition to the partnerships, Gameloft owns and operates titles such as Block Breaker Deluxe, Asphalt: Urban GT and New York Nights.

Through agreements with major telephone wireless carriers, handset manufacturers, specialized distributors and its online shop, Gameloft has a distribution network in over 80 plus countries.

Gameloft has worldwide offices in New York, San Francisco, Seattle, Montreal, Mexico, Buenos Aires, Bogota, Sao Paulo, Santiago, Paris, London, Cologne, Milan, Madrid, Lisbon, Copenhagen, Warsaw, Vienna, Bucharest, New Delhi, Seoul, Kuala Lumpur, Jakarta, Beijing, Hong Kong, Singapore, Tokyo and Sydney. Gameloft is listed on Euronext Paris (ISIN: FR0000079600, Bloomberg: GFT FP, Reuters: GLFT.PA)

About SEGA Europe Ltd.

SEGA® Europe Ltd. is the European Distribution arm of Tokyo, Japan-based SEGA Corporation, and a worldwide leader in interactive entertainment both inside and outside the home. The company develops and distributes interactive entertainment software products for a variety of hardware platforms including PC, wireless devices, and those manufactured by Nintendo, Microsoft and Sony Computer Entertainment Europe. SEGA Europe's web site is located at www.sega-europe.com.