S&K for XBOX Live Coming Late Summer
by Tristan Oliver
May 12, 2009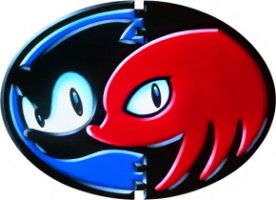 Leaderboards, Online Play Included, Says Sega
Sega has confirmed the news most have known for a couple of weeks now–that Sonic and Knuckles is on its way to XBOX Live, with lock-on capabilities included.
The title will be a part of the second Sega Vintage Collection, as will the XBLA re-release Sonic the Hedgehog 3.  But Sega offered more surprising tidbits about the retro rehashes–both Sonic titles will apparently include network play capability and online leaderboards.  The former could be utilized within those forgotten 2 player modes in Sonic 3.
S&K will be among the last of the Sega Vintage Collection 2 releases, and both games will join Comix Zone, Phantasy Star II, Altered Beast, the arcade Shinobi, and Gunstar Heroes as part of the sever Summer releases.  Of those, only Gunstar Heroes will be released on both XBOX Live and the Playstation 3's PSN.
TSSZ News will let you know when a more concrete release timetable is given for both Sonic 3 and Sonic and Knuckles on XBOX Live.