M&S Winter Olympics Preview from Nintendo Power
by Tristan Oliver
May 13, 2009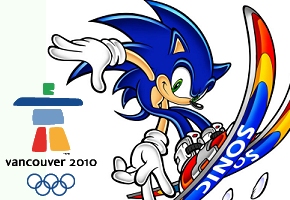 Festival Mode Confirmed for Wii, RPG Mode for DS
The recent Nintendo Power edition contains a four page spread on the upcoming Mario and Sonic at the Winter Olympic Games, set for release this Winter.
The good news is that if you were a fan of the Summer Olympic clash of virtual titans in Beijing, the development team dishes in the article that this go around, a two year development cycle was given–more than double the time the original received.  That means more polish, (hopefully) better press reception, and more features.
The better news is that some of those new features were disclosed in the story, which we have scans of below with thanks to Sonic Stadium forumer Thrippa, who posted them online.  The Wii mode will include a special story mode dubbed Festival Mode, which begins right at the Opening Ceremonies and goes event by event, day by day, through all seventeen days of the Olympics.  You'll be able to play it solo or through cooperative multiplayer, and there may be "boss" battles along the way.
For the DS, a special RPG mode will be implemented, called Adventure Tour.  Says DS director Eigo Kasahara on it:
You'll control Mario and Sonic, explore a huge map, go on quests, and solve various minigames.  We think we'll be able to show you really new things about Mario and Sonic's worlds, and the mixture of both of their worlds, that have never been shown before.
The article also confirms that unlockable Dream Events will return in this iteration, and will be more numerous.  Further, the DS edition will stick to one specific control scheme for each event–either utilizing the stylus tough or the control pad, never mixed.  You can take a look at more information in the scans below.