First @ TSSZ: Out with a Whimper Demo for SAGE 2009
by Tristan Oliver
May 18, 2009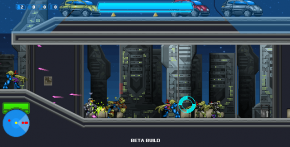 TriBlox Announces Expo Presence; New Screenshots Inside
The 2D Halo project that was planned for a grand premiere at last year's SAGE didn't quite make it to the show.  Now, thanks to an anonymous news tip, TSSZ News can share with you first that Halo: Out with a Whimper is planning to come into this year's SAGE like a lion.
Developer Triblox announced Friday on their forums that they will have plenty to show from the Halo fan game, including a new demo:
Some of you old school members may remember a little thing called "SAGE" from last year. But, for you newer members, SAGE (Sonic Amateur Gaming Expo) is exactly what it's title implies. You may be wondering "What the Faux are they talking about Sonic for?" Well, as of last year, SAGE has opened their doors to non-Sonic-based fan games. We entered last year, and did fairly well (Considering we were "grayed out" the first two days) and we plan on entering again this year, well, that IS if they are still open to games that aren't exactly like one another this year.

And because we are entering (Presumably), we will be releasing a brand spankin' new demo. Even if something goes ary, we'll still release a demo this summer. So get ready to get a taste of what we've been cooking up these last few months.
If you're confused as to why a non-Sonic title is in the cards for the Sonic Amateur Games Expo, it's because the expo, in its current state, is open to other fare.
Along with the official announcement, Triblox took the opportunity to share some new screenshots from the game.  We have those shots below.  TSSZ News will keep an eye on developments with Halo: Out with a Whimper on the road to this year's Sonic Amateur Games Expo.