Original Sonic Now on iPhone, iPod Touch
by Tristan Oliver
May 21, 2009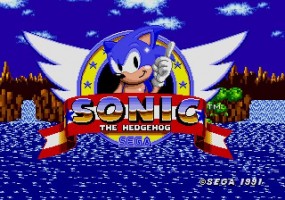 Researchers Reveal It's Just a ROM
Would you pay six dollars just to play something that was nothing more than the work of simple emulation?
Given Sega's success with such titles as Sonic Mega Collection and Sonic's Ultimate Genesis Collection, they're hoping you'll do it again on the iPhone or iPod Touch with the mobile release of the original Sonic the Hedgehog, now on sale for $5.99.  The promotional rhetoric on Apple's App Store is tantamount to the typical Sega PR push, urging you to buy it and speed through the game's original zones in full screen or "arcade" mode.
But researchers at Sonic Retro found yesterday that what was released is nothing more than a slightly modified ROM.  According to The Taxman, Sega didn't even cover up the ROM artifacts that well:
It's 100% emulated. I looked inside the app archive, and it contains a file called "rom.bin". Tested it in Kega Fusion and low and behold it ran no worries XD.

Emulation performance is nothing to write home about. It runs at 30fps, with ok but not accurate sound.

Anyone who's got a jailbroken phone could most likely insert different roms and play them too 😛
So, would you pay to play Sonic again on your iPhone and iPod Touch if it was no different than Sonic on a previous compilation.  And would you play it again if you had to play it like the video below demonstrates?  Tell us in the comments section.