21 New M&S Winter Olympics DS Screenshots
by Tristan Oliver
June 3, 2009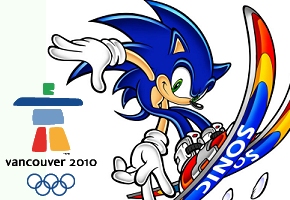 First Look at Adventure Mode
Following up on the seventeen shots we posted from the Wii version, there are also twenty-one new screenshots from the upcoming Nintendo DS release of Mario & Sonic at the Winter Olympic Games.
There's been a lot of speculation as to what the DS-exclusive "Adventure Mode" will entail.  From the looks of the shots below, there will be some cross-interaction between Team Sonic and Team Mario on the quest, which has players attempting to save the 2010 Winter Olympics from a doomed fate.  You'll also see some more events in action, including Extreme Snowboarding, Alpine Skiing, and the Bobsleigh run.
Take a look at them all below.  TSSZ News will continue to bring you the latest information on Mario and Sonic at the Winter Olympic Games, and all things Sonic from the 2009 Electronic Entertainment Expo.