New Screenshots of Sonic Zero: Remastered
by Tristan Oliver
June 9, 2009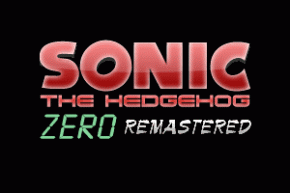 MCKaosu Produced SFG Coming Along Nicely
Sonic Fan Games HQ senior member MCKaosu has released three new screenshots of his fan game project first announced in March.  Originally known as Sonic Zero, it has since taken on the Remastered subtitle and is being made over from the game's original demo.
Here's a quick summary of the game's storyline and what to expect gameplay wise:
Story:

It has been over a year sense Sonic's previous adventure. During that time, the hedgehog finally got to relax in piece with his friends, but it wasn't meant to last forever. On another Island, an ocean away from South Island, Dr. Eggman is up to one of his worst schemes yet. Using his robots to do the dirty work, He discovered a new energy source that has been berried for centuries. Legend names them: The Rings of Double Zero. With their everlasting powers, He could use them to finally take over the islands with Unstoppable Machines. Sonic the hedgehog got wind of this from a troubled Flicky that was able to escape the Dr.'s Havoc, and with out delay, He rounded up Tails and Knuckles, and then set out on their Biplane to hurry and stop Dr. Eggman before it's too late.

Game play:

*Play the game as Sonic, Tails, or Knuckles. Use every bit of their skills to discover new paths through the zones.
*Take a look at the Island Map. See everything it has to offer from start to finish.
*Nine Zones with 3 acts in each one, but 4 acts in the last Zone.
*There will be eight Special Stages that will take you to a trip back in time. Relive the Boss Battles that made history and gain a Chaos Emerald for each one… But why EIGHT?
*Finding all the memorable Power-ups makes any game fun. See if you can recognize each one.
*A free play mode will allow you to travel back through any level you chose. Who knows? You may be able to play with characters besides the main three.
All three new screenshots below are from Sonic Zero's first level, the Palm Tree Parkway Zone, just released last night.  We'll be sure to keep track of this and other fan game developments on the road to the 2009 Sonic Amateur Games Expo.