Two More Characters Confirmed for M&S Winter Olympics?
by Tristan Oliver
June 11, 2009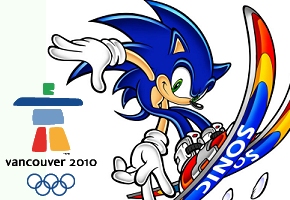 Silver Nearly a Lock…But There May be One More in the Cards
Astute community members studying the recent crop of Mario and Sonic at the Winter Olympic Games screenshots have found not just one, but perhaps two exciting developments.
The image in question is one we showed off last week.  It primarily shows off Tails in one of the game's "Dream" modes, a non-traditional mode that doesn't follow the standard Olympic protocol.  Wer're showing it again below–can you see what's unique about the photo?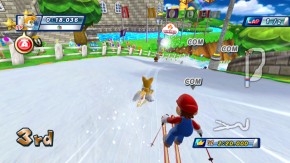 In the distance you'll see a series of character flags waving.  At the tail end of that row is a silver colored flag.  Look closer, and you'll see some art work indicative of Silver the Hedgehog–all but confirming his appearance in the game.
But that's not all.  Look closer at the track map on the right hand side.  Some in community are speculating that another icon for a yet unannounced character is in that jumbled mess.  It could be another entry from the Sonic series–though it can't quite be made out who.
Do you have a guess?  Do you simply have a better eye?  Give us your thoughts on who else could be represented in the comments section below.  Thanks go out to tennis7657 and others who submitted the information via the News Tips system.  If you have something to share, click "News Tips" at the top of every page.