How Japan Celebrated Sonic's 18th
by Tristan Oliver
June 24, 2009
If You Thought Yesterday's Swag was Sweet…
The celebration of Sonic's 18th birthday was a global affair.  Sega of Japan marked the occasion by launching another month long giveaway of Sonic stuff, available only to Japanese residents.
The contest, which appears to end July 22nd, will give away plenty of Sonic swag from now and then to 24 lucky recipients, including sticker sets from Sonic Heroes and Sonic Advance, to the Sonic Riders: Zero Gravity soundtrack, to Sonic plushies and apparel.  There's even what appears to be autographed copies of the Sonic Heroes script up for grabs, as well as reprints of original Sonic concept art.
That's not all.  Some Japanese cell phone carriers received what appears to be an update of a mobile Sonic title released six years ago, called Sonic Putter.  As the original was never released outside of Japan, don't expect this one to be, either.  Sega's Japanese Sonic Channel blog released one lone screenshot of it, the title screen: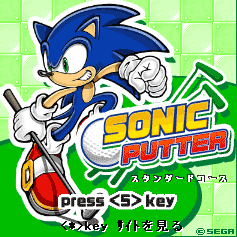 Mobile users in Japan received even more cool swag than that.  Also in celebration of Sonic's 18th, Sega released special mobile content for Softbank, Docomo, and AU carrier phones.  The skins, available for 315 yen, replaces the standard call images with beautiful 16-bit goodness: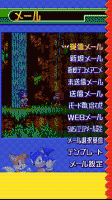 With all this in mind, who do you think held the better birthday bash: Sega in the West, or Sega of Japan?  Tell us in the comments section.