Purported Birdo M&S Olympics Photo Removed from Mario Wiki
by Tristan Oliver
June 25, 2009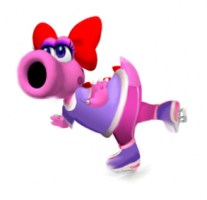 Authenticity of Image Cannot be Verified by Site
For the moment, the only place you can see this image is right here.
That's because the original source of what is purported to be CG art of Birdo in Mario and Sonic at the Olympic Winter Games, the Super Mario Wiki, thrust it offline earlier this week, shortly after we reported on the image's sighting.
Change logs from the wiki indicate that the image's removal was due to an inability to account for the original source of the imagery.  Though the art never appeared on the wiki's section dedicated to the upcoming game, it did appear on one of the wiki's gallery areas dedicated to Birdo.
When word first spread of the news, some felt the artwork was a cleverly produced Photoshop job.  TSSZ News always have and, for the moment, will continue to label the imagery as part of a rumor.  Should we get new information, it will be passed along.