Puyo Pop 7 theme song single heading to CD
by Andrew Paulson
July 6, 2009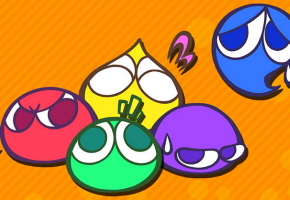 Theme song sung by Asami Imai to be released as a single…
For those excited about the upcoming July 29th Japanese release of Puyo Pop 7 (known as Puyo Puyo 7 in Japan) for the Nintendo DS, I have news of a theme song single to keep the excitement going. Head over to Sega's Official Puyo Pop 7 Website to hear the theme song to the game. The song goes by the title " Puyo Puyo no Uta" and is being sung by vocalist Asami Imai, who's also voicing Ringo Ando, the game's lead character.
The single is currently planned for a release a day after the Puyo Pop 7 Nintendo DS game on July 29th. It's being released through Wave Master at a price of ¥1,260.
For those interested in buying the Japanese release of Puyo Pop 7, head over to Play-Asia.com. There is also a Sony PSP and Nintendo Wii version of the game in the works, a release date of winter 2009 is planned for Japan.  Sega currently has not yet announced any releases of the game outside of Japan, so far a US release is doubtful.
(Source: Sega Nerds)