New Video: More Sonic Rebirth Ads
by Tristan Oliver
July 8, 2009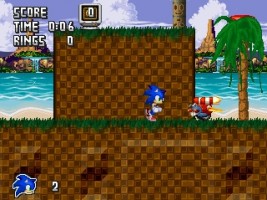 Full Version Expected for SAGE
TSSZ News has obtained two new videos promoting what we believe to be the upcoming full release of Sonic Rebirth.
The release, which updates and revamps the classic levels of the original Sonic the Hedgehog for the Genesis and Game Gear, will be showing up at the 2009 Sonic Amateur Games Expo.  What is not yet crystal clear is whether this will be a full release.  If it is, Rebirth will join a rare and elite group of Sonic Fan Games that have seen completion in recent years.  The other final release expected at SAGE is Sonic Robo Blast 2.
Take a look at the videos below.  No matter what, Sonic Rebirth is being promoted as a showstopper at this year's SAGE, and it will certainly be a part of the coverage we offer from the online expo later this month.