Boxart Released for M&S Winter Olympics
by Tristan Oliver
July 13, 2009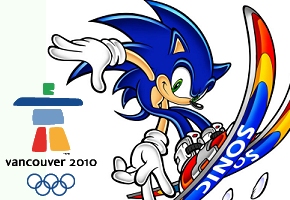 Release Dates Confirmed for America, Europe
Sega has released new box art today for the upcoming Mario and Sonic at the Olympic Winter Games.
Both the Wii and DS covers, which we have for your review below, indicate Wi-Fi compatibility, though it's unclear right now whether that will extend to actual online multiplayer.
You'll note that while the Wii cover only showcases Mario and Sonic, the DS cover has several characters from both universes shown off, including Metal Sonic.  Tails and Knuckles join him, as does Peach, Luigi, and Donkey Kong.  Sorry–no more glaring hints here.
With the new box art comes confirmation of the game's release date.  Sega of America has confirmed Mario and Sonic at the Olympic Winter Games will be released in North America in October 13th.  Meanwhile, Fox Gungrave sent into us via News Tips that Sega France has confirmed a release date of October 16th.  The Sonic City Blognik has confirmed that will be the release date for much of Europe, including Britain.
Take a look at the new artwork below.  You'll note that we've included both North American and European box art.  Also take note that it appears Canada's art will be slightly different.  We received several tips in regarding the story, and we thank everyone who wrote in to tell us.  If you have a story to share, tell us by clicking "News Tips" at the top of every page.