Bowser Jr. Presence Confirmed in M&S Winter Olympics
by Tristan Oliver
July 16, 2009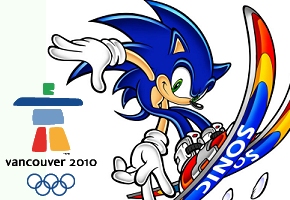 What Was New Video Forced Off by Sega Europe

We've been getting tons of inquiries begging for in-game footage from Mario and Sonic at the Olympic Winter Games.  Though it's not clean, a news tip from sonicsmashkirby has made your wishes come true.
Our tipster found someone playing the Wii edition's bobsledding at Australia's Supanova Pop Culture Expo.  The tidbit of footage from ForwardSlashAwesome.com included Daisy, Yoshi, Luigi, and Blaze.  Though you could also see a tidbit of the middle race and the very tail end, you could also see how the Wii Balance Board in conjunction will be utilized in the Olympic event.  So far, the control mechanism looks pretty solid.
It also appears that this video also confirmed the presence of another character!  Astute video viewer and TSSZ News reader Pur points out that at about :31 in, you could see a flag on the right hand side showing off an emblem for Bowser Jr. Like a previous screenshot that showed off Silver in a similar vein, this nearly affirms that we'll see the little tyke in this Olympic clash of the gaming titans.
Unfortunately, as of this evening, you can't see the footage we previously brought you this evening…because even though it wasn't clean footage and the game was evidently on display at a public exposition, SEGA of Europe has filed a copyright claim on it with YouTube, thrusting the video offline.  It's a good thing, then, that Pur got the money shot in a still form, and we have that hosted here as a replacement.
TSSZ News will continue to bring you developments on Mario and Sonic at the Olympic Winter Games, slated for release in October.  Remember that if you have found something newsworthy we haven't, you can let us know via our News Tips system, and we'll take a look.