SFG Disappointments A Week Before SAGE
by Tristan Oliver
July 18, 2009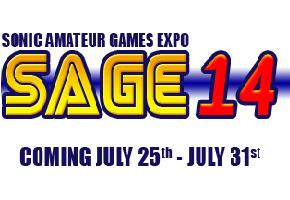 3 Games That Could Have…Won't Be There
It almost feels like the assumed major players of this year's Sonic Amateur Games Expo are dropping like flies.
Though games like Sonic Robo Blast 2 and Sonic Rebirth are still expected,the developers of several other titles are dropping out of this year's expo, while a few more are announcing new fan games, but not using SAGE as an opportunity to expose them.
Chief among the departures is Emerald Ties: Crossing Fates.  Gamerdude made the announcement yesterday morning:
I want to confirm that as of right now, Emerald Ties will not be present at SAGE. It was a hard decision that the whole team discussed for a couple of days, but in the end we decided that rushing out a demo would not be in the best interest of the game. I'm sorry to those of you who are disappointed by this. The team has had very busy work schedules and/or personal issues occurring this summer and we have not accomplished enough to participate. This is not due to any part of the team in particular, just as a collective whole real life has been demanding.

Instead of rushing something out in a week's time or entering the same demo as last SAGE, we have decided to take our time and make sure we are satisfied with what we will release. I am of the belief that re-releasing an old demo just for the sake of being in SAGE is a waste of the players' time who expect new content. Our current target is to release a new demo by the end of the summer. During SAGE we will try to get up some new screenshots to at least show you guys something.

Again, I'm sorry to those of you who were looking forward to seeing Emerald Ties at SAGE. We want to give you all a really fun experience that doesn't feel rushed nor lacks that level of polish you're used to seeing. I hope you can understand and respect our decision.
Adding to the disappointment is the creator Sonic 360 bowing out.  Creator Nitemare made the announcement this morning, saying a graphics overhaul and engine change are behind the delay:
There's no point in me constantly trying to make better engines when Worlds is already far better than anything I could create. Doesn't half speed up progress too and to be honest makes the project a whole lot more enjoyable to be making.
We have some new screenshots of Sonic 360 below, that coincided with the announcement.  Adding to matters was the announcement of a new game on the Sonic Fan Games HQ forums, Sonic the Hedgehog: Blackout. The game is made by flame6753, will be made Multimedia Fusion  with the Sonic Worlds engine, and is expected to harken back to Sonic  and Sonic CD gameplay.  There is a test video available and we'll have that for you this coming week on TSSZ News.  But according to flame 6753, he's "not sure" he'll be attending the expo.
In all, these are the games, old and new, you won't be seeing at this year's expo.  As a consolation, here are several new screenshots of Sonic 360 for your consideration.  There will still be a SAGE, however–and we're here to cover it all.