Sonic Chronicles Manga Coming Soon
by Andrew Paulson
July 23, 2009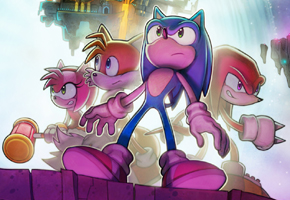 The Japanese Dengeki DS Magazine will feature a Sonic Chronicles: Invaders from the Dark Dimension manga…
After originally featuring a Sonic World Adventure (Sonic Unleashed) manga last year, the Japanese Dengeki Nintendo DS Magazine will next feature a Sonic Chronicles: Invaders from the Dark Dimension manga. Currently we do not have much information on what characters besides Sonic & Tails will be featured. We will make sure to obtain a copy of the magazine when it is released in Japan and upload some scans of the manga onto TSSZ News for you. The Sonic Chronicles themed manga will first appear in the September issue of the Dengeki DS magazine.
Until then, enjoy the preview artwork below and a quote from the text. Thanks to Fox Gungrave for the quoted text below and news tip!
Tails: Sonic !
Sonic: Tails ! How are you ?