New Video: ASR At Comic Con 2009
by Tristan Oliver
July 24, 2009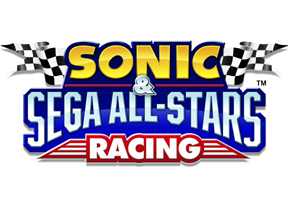 "Intense" Multiplayer Planned
It appears that the same demo of Sonic & Sega All-Stars Racing shown at June's Electronic Entertainment Expo is available for the public to play at the 2009 San Diego Comic Con.
Brian Ekberg of Gamespot caught up with Sega's Omar Woodley, who is an associate producer of ASR.  They chat it up while Sonic jumps and fidgets around in his car around the track.  The chat does bring up some new information, as well as some conflicting material.
From the video, you can see another power-up available for pickup–one of Eggman's piranhas, which themselves have gotten a redesign from the old days.  The all-star move for Amigo has also been disclosed; opponents will be conga dancing out of his way.
The video does bring up some points of contention regarding tracks and playable characters.  Woodley suggests that both the number of available characters and available tracks will hit "over 15," in his words.  You may recall back last month that another developer walk through pegged the number of playable characters at 20.
We'll have to get some additional clarification on that remark at a later point.  In the meantime, there's other material to be uncovered within Gamespot's video, including multiplayer plans, available below.  TSSZ News will continue to bring you new details on Sonic & Sega All-Stars Racing on the road to its planned February 2010 release.