SAGE 2009 Is Open
by Tristan Oliver
July 24, 2009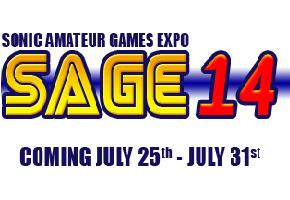 Let the Fan Gaming Begin!
At the stroke of midnight, eastern time, the 14th Sonic Amateur Games Expo was declared open to the public.
At first glance there are more than 40 demos available for the Sonic community and beyond to test out.  The overwhelming majority appear to be Sonic related, but other classic gaming franchises are also in the mix in fan game form, including Halo and Megaman.  There are also plenty of original games for your consideration.
We have some new information out of the SAGE opening.  Mike Pollock will be chatting with SAGE attendees Wednesday at 10PM ET, and Tom Payne will be on deck Thursday at 9PM ET.  We will have correspondents there to bring you the skinny on the SAGE chats, should you not be able to attend.  Those chats will be on IRC, at irc.rizon.net at the #sagexpo channel.  The official SAGE website also has a web based IRC client for use.
Our SAGE 2009 has been active for several weeks now, but all the real meat and potatoes of it begins now.  The entire TSSZ News team will give you the lowdown of what's new, what's cool, and what's next with our combined news reporting and honest reviews.  TSSZ News coverage of SAGE 2009 continues this morning and this afternoon, and all throughout the next several days.  We are our source for SAGE.