Sonic Robo Blast 2 v2 Released
by Tristan Oliver
July 24, 2009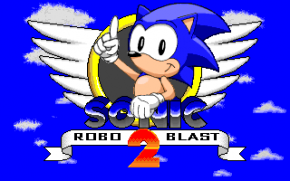 New Release Marks end of AJ Freda Era
Hours before the debut of the 2009 Sonic Amateur Games Expo, AJ Freda and a team of developers known as the Sky Sanctuary Team have released version 2.0 of the long running Sonic Robo Blast 2.
AJ Freda remarked today on SRB2.org's front page about the release:
So many changes have been made to SRB2 in the past three years (can you believe it's been that long since the last release?), and since this version is NOT backwards-compatible at all with previous SRB2 versions, I feel it warrants a version upgrade.
The game now has a fully completable single player campaign. It isn't finished, but does look polished.
There are scads of other changes, but to list them would be exhausting. I hope we've exceeded most people's expectations on what SRB2 is capable of – it certainly has mine!
The release is bittersweet on one core level: it marks the departure of AJ Freda from Sonic Team Jr., and the project.  One of the original brain children of SRB2 with Johnny Wallbank in the 1990s, Freda will now move forward with exciting challenges that lay ahead in real life.  But, you'll note above that SRB2 isn't totally complete yet.  That will be left to Mystic, who will oversee the project from now on.  According to Freda:
…with Mystic in control, I am confident that SRB2 can be completed to its original vision and not get mired in the cruft and indecision that plagues so many fan games.
The download we've linked to above is a torrent, totaling nearly 80 megabytes.  It will be among the many fan games and demo we review from this year's Sonic Amateur Games Expo.  TSSZ News is here to give you coverage of this year's SAGE that's complete, unrivaled, and unafraid.