Super Monkey Ball: Step & Roll Wii Remote Compatible.
by Andrew Paulson
July 24, 2009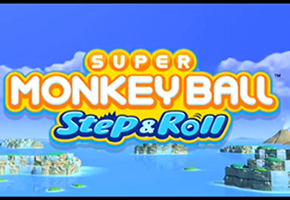 The game can be controlled with a Wii Remote as well as the Balance Board…
With Super Monkey Ball: Step & Roll being announced on Tuesday, our main concern (among many other fans of the series) was the games control options. It seems the games main gameplay focus is how it's controlled via the Wii Balance Board, by shifting your weight on the board to tilt the stage to help your character reach their goal. Thankfully that is not your only control option, Nintendo Power has released a preview to their upcoming September issue Super Monkey Ball: Step & Roll article, revealing that you'll be able to play through the entire game using the Wii Remote.
The article (shown below) also reveals some other new details on the game, such as how the main single player mode will feature seven worlds with 10 stages in each, featuring new stage layouts with themes inspired by Banana Blitz (Wii). There will also be brand new multiplayer minigames and returning favorites from Banana Blitz. One of the new minigames is See Saw Ball, which will feature each monkey starting high above their target, you'll use a series of floating seesaws to get your monkey as close to the center of the target.
Nintendo Power also promises to reveal a new feature to the game in a upcoming issue that will be a fresh take on the series. The upcoming September issue of Nintendo Power also features a interview with Super Monkey Ball: Step & Roll director Jun Tokuhara, remember to pick up a copy of the magazine for the full interview.