Revised Sonic Rebirth Build Released
by Tristan Oliver
July 31, 2009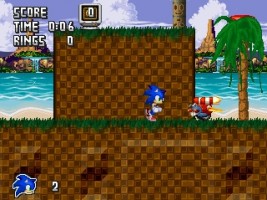 Widespread Bugs and Glitches Reported
Only hours after the full version of Sonic Rebirth was unleashed to the masses, a new edition was uploaded by the game's creators–on the heels of numerous problems had by players.
After Sonic community members far and wide picked up the original release, problems started pouring in, ranging from issues switching between OGG and MIDI music, to unbeatable bosses, to outright crashes of the game.  That has prompted a quick revision of the original release to fix most of these problems.
But other complaints with the finished product may be lodged in the engine behind Rebirth–Sonic Worlds.  Developed as an open source project that is sponsored by Sonic Fan Games HQ, some of the complaints with this game stem from items such as its physics, which to some are too fast for the classic Sonic gameplay Sonic Rebirth intends to emulate.  Further, according to those who've played, response times wildly fluctuate–going too far in some instances and too little and, in most cases, too late in others.
A few have questioned whether this SFG was even bug tested before it hit the big time.
And still, even with the revised release this evening, more bug reports are pouring in–a few of them critical to a player's progress.
TSSZ News will have a review of Sonic Rebirth in due course.