Full Sonic Rebirth Thrust Offline for Bug Fixing
by Tristan Oliver
August 3, 2009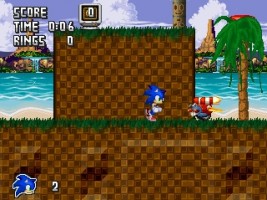 Unclear When Fixed Edition will Resurface
If you didn't download the buggy but full version of Sonic Rebirth this weekend during SAGE, you may not be able to for a little while.
Fast the Hedgehog, who has posted to some community message boards as leon, has disabled the download links to the game, citing multiple reports of glitches and problems that, at points, hinders a player's progress in the game.
It is unclear when a fixed product will resurface online.
The move comes amid the cries of several disappointed fans who had anticipated the SFG's full launch.  Meant to re-imagine the Genesis and Game Gear levels of Sonic 1, Sonic Rebirth was originally slated to launch July 30th, but was delayed a day due to matters seemingly unrelated to this crop of issues.
TSSZ News will let you know when the fixed edition of Sonic Rebirth comes back online.  In the meantime, a few fans have posted the buggy edition on their own private space for those who just can't wait to download it.  We are, for the moment, not going to disclose where those links are.