Hoaxbusters: The "Sonic Test" Disc that Isn't
by Tristan Oliver
August 10, 2009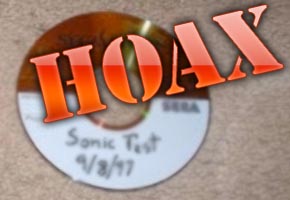 The Process Behind Debunking this Photo
There was something weird that passed through our News Tips system over the weekend…and it didn't look good.
You're looking at it: A Japanese Sega Saturn branded disc that had "Sonic Test" scribbled on the bottom and "9/8/97"  underneath that.  It was sent to us by someone only identifying himself as Don.  He wanted to remain anonymous.  In being caught while trying to dupe us, he won't be.
Don wrote this as a part of the tip, and sent in said picture:
I am speaking anonymously as I don't want to make this public myself yet. I have come into possession of the following disc.
My Sega Saturn can't play it so I am in the process of figuring out how I can get it to work. I was hoping this site would take the news and I could see people's reactions and possibly get a hint at what it could be. It was found at a garage sale in San Francisco by a woman who says she used to be a programmer, and that's all she told me.

I am hoping it is a Sonic game for Sega's Saturn, but I don't know this stuff too well. I will share more info personally on a Sonic forum one day once I figure out how to play this!
There was something strange in this neighborhood.  So, who are you gonna call?
In this case, we spent the weekend in touch with several Sonic community researchers, including Tweaker of Sonic Retro, and Phugolz of X-Cult.  The first two researchers we contacted couldn't really say for sure whether this was the real deal or a hoax.
In fact, for a while, Tweaker in particular felt it may be the missing link to something long sought after by Sonic research.
You see, there is something similar to the disc you see above in existence somewhere, and it has to do with the ill-fated Sonic X-Treme.  The Sonic research community widely believes that Christina Coffin, who worked on the project, has a working copy of X-Treme's boss engine on a disc.  This was confirmed a few years ago when said material was shown on a now defunct message board.  Should that disc have been misplaced or sold off, it would explain the above photo.
Phugolz, the first to consider this disc a fake, even issued a challenge to Don to come forward with more information…assuming it was real.
"I can bring my laptop/av capturing device/Sega Saturn," he declared.  "I am so 100% sure this is a hoax, I'm more than willing to travel to debunk it."
It's a good thing he won't have to.
Updates this morning from the researchers indicate that the image above is merely a moderately intricate Photoshop job.  Take a look at the original photo we received on the left, and a similar photo from Secrets of Sonic Team: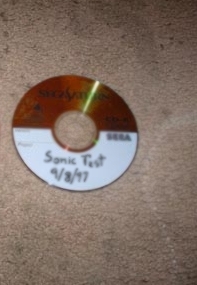 You can see that Don used his artistic prowess to try and pull a fast one on us.  There were other telltale signs, such as the lack of a legitimate return address for Don, but the tale of two pictures–and, in particular, the similar carpet crease–meant this wouldn't get past our researchers.  They aren't afraid of no hoax.
So, a big thank you to Robert Luckett, Tweaker, Sazpaimon and Phugolz for help cracking the case.  And a big warning for those like Don trying to fool us: When it comes through our door (unless we want some more,) you bet we're gonna call…Hoaxbusters!