PS3 Slim Announced; Out in September
by Tristan Oliver
August 18, 2009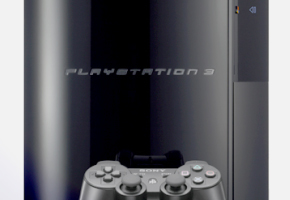 New Model will Lack Linux Support, Original PS3 Gets Price Drop
The first major announcement out of this year's GamesCom is Sony's official unveiling of the Playstation 3's little brother, the PS3 Slim.
The new model will stop spelling out Playstation 3 on the front, and will sport a 120 GB hard drive.  Even so, it will be a third smaller and lighter than the Playstation 3.  Sony will begin shipping the PS3 slim worldwide beginning the first week at September.  It will cost $299 in the US, ¥29980 in Japan, and €299 in Europe.
One major feature lacking from the PS3 Slim is additional OS support.  The PS3 Slim will no longer allow players to install Linux and the like on the console.  However, the system will ship with version 3.0 of the console's firmware.
Quickly on the heels of the news, retailers are dropping prices on the original PS3.  According to Kotaku, Gamestop has already cut the price of the 80GB PS3 to $299, while the 160GB model has dropped to $399.  Other retailers, if they haven't already, should follow suit.