10 Inch Metal Sonic Revealed
by Paul Street
August 19, 2009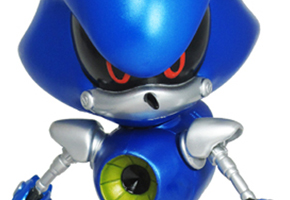 First Full Size Metal Sonic Figure To Be Released In September
I've just got a very quick update this morning before I rush off to my day job this morning. Thanks to a news tip from BlackHawkOmega, TSSZ News can be among one of the first Sonic websites to reveal to you the first full image of the 10 Inch Metal Sonic first revealed to us alongside news of the Juvi Metal Sonic a month ago.
The full picture is below and I'm sure you'll agree that Metal Sonic is looking one sexy beast. According to the Jazwares website the figure is 'super articulated' but unlike the super posers doesn't look like a freak show. He also appears to have a lovely metallic sheen to him.
Keep on the look out for him as 'September' is the best we have for a release date just yet. Of course if you find out anything more before we do or spot any more pictures don't hesitate to contact us via the News Tip system much like BlackHawkOmega did with this.