ASR Recording at Summer of Sonic Now OK
by Tristan Oliver
August 26, 2009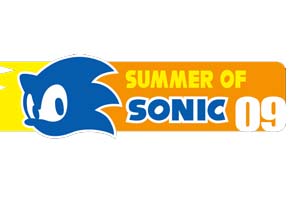 Organizer Calls TSSZ Coverage of Videotaping Confusion "Sensationalist"
Last week, TSSZ News told you about information we received concerning a revision to recording guidelines at this year's Summer of Sonic convention, taking place this Saturday in London.  Our understanding of it was contradictory to the policy stated at the SoS website.  While the site's FAQ still boasts a rather open ended recording policy and has not since been revised, the information we received from SoS organizer Svend Joscelyne noted, in broad terms, that recording near kiosks of upcoming Sonic titles would be prohibited.
"There will be restrictions on what you can record in the venue,"  read the memo received by TSSZ News.  "Sega will be demonstrating various upcoming Sonic-related titles at the show, and recording information from these pods are strictly forbidden."
That was then.  This is now.
Some clarification has been achieved on the matter.  The initiative was actually made by a TSSZ News reader, who read our story last week.  Via social networking venue Twitter, Biafrarepublic wanted to know why the video blackout applied to Mario and Sonic at the Olympic Winter Games would also suddenly apply to Sonic & Sega-All Stars Racing, which will also be on display at SoS–and hasn't had such restrictions to this point.
The quick public back and forth with Joscelyne and Sonic Wrecks maintainer Kevin Eva ultimately yielded an answer–"It doesn't."
That's according to the tweet of Eva, the SoE employee co-organizing the convention with Joscelyne.  Ultimately, that's good news for those attending the convention this Saturday–they will be able to record ASR and share their experience with the world, if they wish.  Those who can't be there may be able to get their first glimpse of newly announced characters, such as Beat, Alex Kidd, and Knuckles. as well as the new stages in action.  That's not confirmed as yet, as we don't know which build will show up at the convention.
Joscelyne let our reader know the real deal, criticizing our coverage of the policy confusion in the process:
RT SonicWrecks @dreadknux It doesn't. – There's your answer. Now you can stop believing sensationalist Sonic media. 🙂 [….] You actually believe that crap?
This, despite Joscelyne not returning our direct request for comment and clarification on the matter last week before our original story ran, and despite sticking with the same train of thought demonstrated from that recording memo when he publicly commented on our story Sunday:
Attendees will be playing, first hand, demos of the new Mario and Sonic and Sonic and Sega All-Stars Racing at the Summer of Sonic convention. Demos that may include information that has yet been revealed or is embargoed until a later date, in fact. There is nothing you can really detract from that experience (considering ASR is in fact months from release) by implementing a very standard recording restrictions practice.
UPDATE: Joscelyne has since Tweeted that the merits of our original story and the concerns presented in it were "without any real basis."
Confused?  The bottom line is that Sega's policy on recording upcoming games varies from title to title, and though the blackout and subsequent restrictions remains in effect for M&S, they do not for ASR–at least not right now.  So, international Sonic fans will wait patiently to see what new video comes out of the Summer of Sonic convention.  The UK based staff of TSSZ News will be there to bring you coverage this weekend.