One of Three Jun Senoue Discs Delayed
by Tristan Oliver
August 26, 2009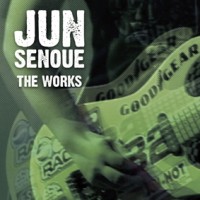 One Crush 40 Compilation Pushed to November
Attention importers: If you were planning to snag all three of Jun Senoue's upcoming albums, one of them has been pushed back.
Fan site JunSenoue.com reports that the album of most importance to Sonic fans, The Best of Crush 40, will see a release in November, as opposed to October, when the other two discs are slated for release.  Import site CDJapan.com confirms this information, now pegging the Best of Crush 40 comp for a November 18th release.
Senoue, through the fan site, released this statement:
I will release three CDs from October (Unfortunately, the date for The Best of Crush 40 has been postponed until sometime in November, I will let you know the details soon). The first CD is "Jun Senoue – The Works." I need to re-work and track some new guitars on some songs though!  Attached is the artwork of "Jun Senoue – The Works" CD and it will be released on Oct.21st.
There will be 24 tracks on it featuring lots of songs previously unreleased on CD.
You can see the artwork for The Works above.  Thanks for Fox Gungrave for letting us know of the information via our News Tips system.