SoS Stage Itinerary Released
by Tristan Oliver
August 27, 2009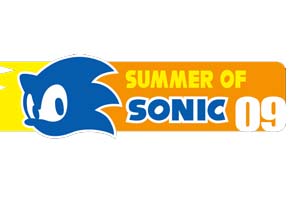 When Bentley Jones will Perform, and the Special Gift you Could Receive
With just two days to go until the Summer of Sonic convention in London, the day's stage itinerary has been made public.
The first item of note is that you may want to plan to be there a little early.  There are two reasons–one is the possibility (but not the guarantee) that the venue could open as early as 10:30AM local time, as opposed to the official start time of 11AM.  That will depend on how fast setup goes, according to the itinerary.
The second reason to show up early is that SoS organizers have put together a special gift for attendees while supplies last: a special Sonic art book.  The gift was produced with the help of Sega, and includes many classic Sonic poses and artwork–sure to satisfy fans old and new.  The booklet will only be given to those who pre-registered for the event, and only while they are available.
From there, the notable stage events for SoS include two performances by Bentley Jones–the first at 11:45AM, and the second at 1:30PM.  Q&A sessions are also set for the stage area.  Sonic the Comic's Nigel Kitching and Nigel Dobbyn field questions from 2:30 to 3PM, while Sumo Digital members Travis Ryan and Steve Lycett will take your questions on Sonic & Sega All-Stars Racing and other works from 3:45PM to 4:15PM.
Other itinerary events include special broadcasts, a quiz show, and judging of the SoS cosplay competition.
The UK based TSSZ News team will be on the convention floor, gathering new information, talking to guests, and bringing those who can't be there the experience of a Sonic fan's lifetime.  Paul Street, Mike Taylor, and Andy C will have Summer of Sonic covered this weekend.