On EBay Today: Sonic Air Freshener
by Tristan Oliver
August 28, 2009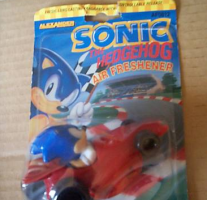 Rare, Cheap, and Sonic Fresh
Forget "New Car Smell"–if you have some money to spare, you can give your wheels a much different kind of bling–Sonic style–and it comes with that new blue smell.
Or maybe not, since this Sonic the Hedgehog air freshener is from 1992, despite it still being sealed in its original packaging.  The item was produced by UK car part manufacturer Halfords, and today only, it can be yours if you bid on it for the low, low price of £30, plus shipping.  In US dollars, that's $48.52.
The seller lists the figurine as measuring 4 inches long, and the figure itself gives off a very old-school Sonic Drift feel.  But if you want it, you better act fast, because bidding closes tomorrow morning.