Summer of Sonic: Cake or Death?
by Tristan Oliver
August 28, 2009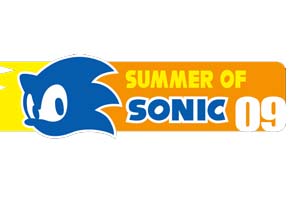 Maybe Both…if You're Not Careful
The 2009 Summer of Sonic convention will be held tomorrow in London.  Today, there are several reminders being issued for those traveling to the Sonic fan convention, as well as a few advisories you may not have been aware of.
The final checklist, made available today on the Blognik, is mostly common sense–but there is one travel advisory that should be heeded, especially if you will be tubing it on London's Underground system.  According to AAUK, there may be delays on the system tomorrow:
Please make sure you check your travel routes in advance, there is apparently going to be some disruption on various train and tube lines this weekend, thankfully Aldgate East is open (make sure you don't go to Aldgate by mistake incidentally).  Have a backup plan in your head.
Then, there is the matter of not starving to death.  According to AAUK, if you're going to SoS, be sure to bring some extra money for eateries outside the convention hall, because, on the whole, there won't be food available inside:
There is NO catering at Summer of Sonic 2009, there are plenty of eateries along Brick Lane not to mention a KFC and Burger King very near by should you want to go and get some food. Make sure you've got at least a bottle of water with you for the tube as well.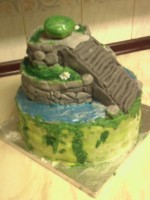 The one exception to the rule will be a special cake coming to the Summer of Sonic.  Baked by Jemnezmy, this year's treat is a small, sweet replica of a portion of Knuckles's Emerald Shrine.  Says SoS organizer Dreadknux on it:
Knuckles' Emerald Shrine from Sonic Adventure's Angel Island is the location of your baked delights this time around, complete with stone staircase and Master Emerald sitting pretty at the very top. Forgive the low quality image, we only had a mobile phone camera to hand.

There were in fact two different sources Jemnezmy referred to for this piece, as the Mystic Ruins is represented in both the past and future in Sonic Adventure. Jem decided to combine both the flowing waters of the past Emerald Shrine with the mossy greens that surround the modern-day Master Emerald.
For those who can't make it, the UK based TSSZ News team will be on the Summer of Sonic convention floor tomorrow.  Be sure to check TSSZ News on both Saturday and Sunday for a complete wrap-up from this year's convention.